Forest Stewardship
We Value Forest Stewardship
As experienced stewards of working forests, we have built sustainability into our business, embracing it in everything we make and do.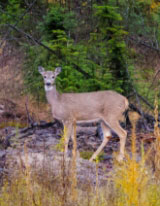 Guided by Our
Environmental
Principles
Working forests are the source of many products essential to everyday life and play a key role in mitigating climate change as they sequester and store carbon. Forests also are critical to clean water, clean air and providing habitats for wildlife, fish and plants. Forests are a precious natural resource that our employees work diligently to maintain and protect. Sustainability is defined as meeting the needs of today without compromising the needs of future generations. For more than 132 years, we have been committed to best practices that support this definition. Our decisions and actions are informed by six generations of forest management—shaped by experience and backed by science.
Throughout our history, we have initiated breakthrough research and conservation measures to study and help protect native species. We also adhere to two of the world's leading sustainable forest management standards across 100% of the land we own and manage. Our commitment to sustainable forest management brings together top foresters, wildlife biologists and other experts who collaborate with community members, tribal neighbors and state and federal governments. Together, we continue to initiate innovative forest and wildlife management programs that protect, maintain and improve the natural environment.